Yohimbe bark extract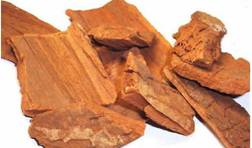 Product Name:
Yohimbe Bark Extract

Source: Yohimbe Bark

Specification: Yohimbine HCl 98% HPLC
Yohimbine 2%, 8%, 10% HPLC

Extract solvents: Ethanol & wate

Formula: C21H27ClN2O3

Formula Weight: 390.9

Appearance: Red-brown powder (Yohimbine)
White fine powder (Yohimbine HCl)

Packing:
A)5kgs in an aluminum foil bag, 4 bags or 5 bags in a fiber drum
B)25kgs in a double layer plastic bag, then in a fiber drum

Storage: Is stored in cool & dry place. Keep away from strong light and heat.

Description:
Yohimbe bark has been used for centuries in some western African nations for sexual enhancement, it has been reported to contain up to 6% total alkaloids, 10-15% which called yohimbine., Currently Yohimbine bark extracts are sold in varying alkaloid concentrations, ranging from plain yohimbe bark powder, to Yohimbine 4%, 8%, and up to yohimbe 20%. The higher the concentration of yohimbe extract, the more potent, and the more likely side effects will occur. But then again, the higher percentage yohimbe extracts are more effective at a lower dosage. Some companies promote for weight loss.